Preparing to build a custom home requires time and hard work. You'll be surprised that it could take up to a year or more to get everything in place to start building.
Once you have a rough idea of what house you want to call home in the foreseeable future, it's paramount to get down into research. Knowing your preferred location will set the precedence for your search.
Land cost estimates from realtors in the region will help in budgeting. Property prices may vary depending on the preferred city/state. Keep your budget above the total costs to cover unprecedented occurrences.
Friends and family references will help you choose general contractors, builders, and designers. Look for people who have already built in the area and take note of professional reviews.
The custom-built home cost can be lowered by following preparation steps before the actual building. Don't rush into making important decisions. Take your time to think about every aspect of planning. You want your house to fit precisely into your vision and needs.
In this article, learn about the steps to follow when building your custom home.
1. Planning Your Budget
Building a custom home requires a significant amount of money. Your savings might not suffice the budget. Construction elements like purchasing materials, appliances, and interior features need money. Plus, hiring builders, designers, contractors, and excavators.
To plan your budget, follow the steps below.
Getting Financing
Lenders offer construction loans and mortgages based on income and financial obligations. When shopping for a financier, have all your financial statements in place. The interest rates and payment periods depend on the loan amount and type.
Ensure you get the best available option, and its payment plan fits your income. The loan amount should be higher than the total budgeted costs.
You can seek help from a financial advisor to take you through choosing a financial institution, loan type, and maintaining a low custom built home cost.
Budget for Overruns and Hidden Costs
If you're a first-time homeowner, some costs you may not be aware of, like;
Furniture costs
Garden and lawn equipment and service
Window treatment
Media and internet wiring
Property taxes
The custom built home cost can be payable monthly, and others are one-time costs. The city's charges differ. Research to know exact amounts at your preset locality.
Set Aside a Cushion Budget
Usually, home building costs more than initially planned. The construction material prices can change. You can request a design change at all stages of construction, and it attracts an extra cost.
Also, unforeseen circumstances like weather forecasts may add to the custom built home cost.
Have a buffer budget to cover inevitable expenses.
Additional Expenses
Any additional features in the house will raise expenses. For instance, a custom pool, koi pond, water fountain, and ample garage space. Budget for the designs.
As you plan, ensure the additional expenses fall within your budget.
Get Bids from General Contractors
When building a home, the bulk of the cash goes to the contractor. The contractor manages laborers and subcontractors. It would help if you got an honest, reliable, and proven skilled builder.
Ask friends and family for references. Mistakes in selecting a general contractor will affect the custom built home cost, timelines, and quality of other building professionals you'll get.
The biggest challenge will be balancing between quality and affordability.
Shopping for Construction Materials
Mainly, the general contractor will pick building materials from hardware stores. But it would help if you were involved in it to take care of your likes. For instance, you may prefer glass patio enclosure walls to wooden ones. For your home to reflect your vision correctly, you have to be involved in shopping materials.
You'll need to strike a balance between affordability and quality. To achieve lower custom built home costs, compare interest rates of different banks and stick to the budget throughout. To get quality results, you need to hire professional personnel and use quality construction supplies.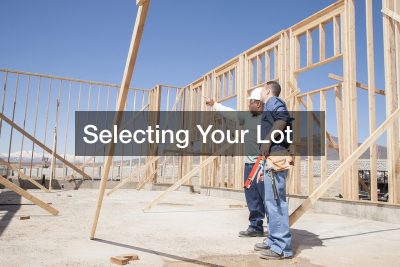 2. Selecting Your Lot
Realtors can help in choosing lots for building and will give you rough estimated costs of land in different areas. Look at the local land prices and plan for a higher land budget.
In choosing a lot, consider the following factors;
Zoning for the Area
Consider adjacent buildings, utility lines, and roads. Take note of potential future buildings in the region. They will affect your privacy, views, and solitude.
Does the region have zoning restrictions on the heights of houses or pets? Check whether the neighboring lots are zoned for residential areas. Avoid constructing a home near a proposed shopping center, school, or road if you don't like noise.
Proximity to Work, Schools, and Shopping
Personal preferences will dictate your preferred proximity to amenities. For instance, if you've school-going children, you may choose land near a preferred school district. The amenities will affect the resale value of your property. Remember, far leading to inconveniences, and being close leads to traffic and noise.
Availability of Amenities
For easy building, the lot should have access to:
Supplied water
Sewer line
Gas line
Underground utilities
Cable TV
Internet
The amenities keep your custom built home costs within a manageable budget.
Sloppiness and Shape of the Land
An ideal slope ensures water drains out of your property efficiently. A slope that collects water will cause flooding. Also, it may lead to foundations, footings, walkways, driveways, and landscaping problems.
Slope affects overall home design. Sloping land needs diverse soil stabilization techniques and tools to make it ready for building. This will be an extra custom built home cost. On the flip side, using the excavated soil deposits to prepare rammed earth will avoid soil wastage and help provide more cash for unwanted vehicles.
The shape determines the house, front size, and rear yards. Pie-shaped land may warrant more extended walkways and driveways.
Nearby Traffic Patterns
Check whether the nearby street is busy and its traffic patterns. Also, its potential growth. You can buy a lot when a street consists of a single lane, but in the future, it will be built into three lanes. If there are plans to build more lanes, ensure it won't affect you negatively.
Busy streets are less attractive and noisy. Consequently, it will affect the resale value of the property.
3. Picking Your House plan
Designing a house plan is the most exciting building a custom home. The elements you choose include; room sizes, window styles, door sizes, and floor styles. Also, you can include long-term heating plans for the house to save money.
Tips to help choose the right plan;
Creating a List of Needs
You're building a house for your family. Ensure you have a discussion with them about their personal needs. Come up with a balanced list. Not everyone's ideas can be accommodated in one building. Leave room for compromise depending on your budget and experts' advice.
Searching Designs Online
Once you have the basic needs in writing, check various popular home layouts in your area and style online.
Search for building plan catalogs for house ideas. This way, you can visualize possibilities. Also, you can get valuable information from stock plan books in nearby libraries.
Selecting Exterior Details
Some districts have restrictions on exterior modifications. Research to know if your preferred area does.
On the flip side, you can choose material types, textures, and colors. The materials include stacks, wood siding, concrete fiber, and brick. Know the pros and cons of using such items and settle on the one that will align with your vision.
Considering Land Features
Look at the direction of cooling breezes and great views; also, sunsets and sunrises. A remodeling capturing nature's beauty is breathtaking.
Some land features will require a high custom-built home cost to achieve your desired results. For instance, sloppy and long narrow lots.
Observing Your Lifestyle
Where do you spend the most time in your house? Let your preferences underline picking of house plans. If you prefer a shower instead of a hot bath, plan for a shower.
Maybe you visited a friend and liked their heating and cooling system. Write it in the plan.
Small children and pets will affect the house design. Storage, closets, and preferred spaces also. Note that the design may change from room to room to take care of different family members' needs. At this stage, consider long-term needs like aging needs.
4. Choosing Your Team
The team will consist of experts to design and build your home. The key players include general contractors, excavators, surveyors, builders, architects, or designers.
The team should understand your vision and have the requisite skills to bring the vision to life. Willing to give guidance on the designing and building process.
You may select a general contractor and allow him to hire other members. Also, you can choose an architect first. Tips for hiring a general contractor include;
Get Multiple Bids
Check on the affordability of the contractor. Beware not to choose the lowest bidder and compromise on the quality of work. Look at contractors' construction materials, timelines, work methods, and myriad other factors.
Hire Local and Licensed Contractor
Whenever possible, hire local contractors. They are easy to contact in case of problems in the future, and they're well versed with your region's building codes.
You can identify them by asking family and friends and looking at their physical and local addresses.
Check Contractor's Past Work
Past work will give you an overview of your home project's success. Check on their specializations. Go online to their websites and look at reviews from other homeowners. A custom home builder needs to be experienced for over five years.
Hire an Insured and Bonded Contractor
Ask for a certificate of insurance (COI) providing the insurance company's name, policy limits, and policy number. Contact the insurance company to confirm the coverage and its effectiveness.
Avoid contractors without appropriate insurance cover because, in case of an accident, you might be liable to cover for accidents on your property.
Do Not Pay Up-front
Don't pay the total amount before the completion of the project. Make checks payable to the company and not individuals. Also, don't pay in cash. Keep your cash check as a receipt.
The standard practice is to pay a third initially.
Compare Warranty and Service Guarantees
This will save on custom built home cost as warranty covers sewer repair and other structural aspects.
Analyze the team's credibility and know their expected work turnaround time. Assemble a strategy for moving into your new home.
You can be the general contractor if you wish to be heavily involved. Hire subcontractors, carpenters, and excavators. The custom built home cost will be lower and more rewarding in this scenario. But it takes time and focus.
5. Communicate Openly With Your Team
Your vision should be well explained to the builder to avoid undesired results. Ensure your builder understands your preferences at every stage of the project. For instance, you may like wooden moving crates when shipping valuable construction materials to avoid losses or breakages. Share with your general contractor.
Throughout the process, be on the same page with the team. Otherwise, the completed house will not meet your expectations.
Communicate your timelines and budgets before the onset of the project. Ensure the builder sticks to your budget in all stages to lower custom home-built costs.
Final Thoughts
The idea of preparing to build a custom home is to cut on a budget where possible, look for finances, and hire professionals to guide you through the project. The custom built home cost can spiral beyond your expectations if you're not careful and detail-oriented.
Custom home builders specialize in aligning the homeowner's vision and the materials available to give desired results. Setting foot in your custom home will be exciting. Give the preparation process needed attention. Your attention and hard work will be reflected in the completed home.